Products List
SNK multi game Cartridge 161 in 1video game machine cabinet
high quality 161 in 1factory, it is arcade game pcb and it contain 161 amazing arcade games.
Description
high quality 161 in 1factory, it is arcade game pcb and it contain 161 amazing arcade games.
jamma game board, just suitable for vga output. it is including tekken 1, tekken 2 and tekken 3 games
the feather:
1. Protect JAMMA I/O from damage of incorrect connection
2. Use Intel G31 motherboard, Celeron Daul-Core CPU, 1G DDR2 memory.
3. Installed multi game emulators software.
4.Allow coins inserted before game selection.
5.After power on player can insert coin at any time
6.Support 4 people play mode.
7.Support one game / multi games business mode.
8.Support 3D games.
9.Support video mode: VGA (31KHZ).
10.Support two-channel stereo audio.
11.Faster I/O response and more stable system operation.
12.Classified all games to Stage, Flying/Shooting, Wrestle/Fighting, Maze/Puzzle, Adult, Sport, Misc./Others, and Special/Classical game list.
13.Each game list can be hided or showed.
14.Each game in list can be deleted or called back.
15.Support simple Chinese and English.
16.Game configurations are adjustable.
17.Support coin counter.
18.Set all games coin and credit value by one DIP SW.
.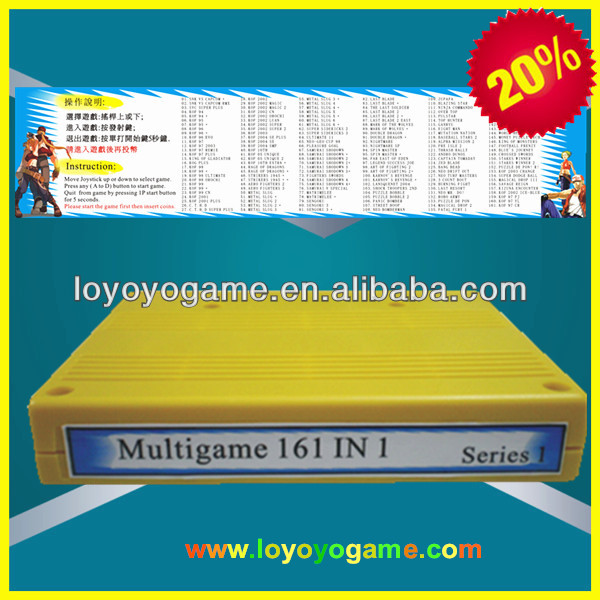 We have different kinds of arcade multigame board,for more details,please feel free to contact us.
Note:
1.As every country have different policy for import tax,so our price is not include import tax. Please check your local tax before buying. Brazil customer if goods sent by EMS but can not receive goods for long time after goods sent out,please contact local post office.
2.Every Game Board/Game PCB/Game Cartridge would be tested before ship out.
3.If you want to change shipping method,if your order have too many items need to combine order,please confirm your order but not pay.And contact with us to adjust for you.
We have many kind of game board and accessory for arcade machine.You can build or replace your machine with convenience way.
Our product brand include: Sanwa,Seimistsu,Zippy,Yonex,WeiYa and other local brand with good quality.
Our accessory product include:Joystick,Push Button,Microswitch,Speaker,Cooler Fans,Coin acceptor,Power supply,Cable Holder,Jamma Harness,PCB Feet,Track Ball,Locks,Coin Door,Converter Board and so on.
Our game PCB include:2100In1,1940 In 1,1078 In 1,1072 In 1,450 In 1,200 In 1,SNK 150 In 1,138 In 1,120 In 1,111 In 1,100 In 1,48 In 1,45 In 1,38 In 1,32 In 1...
Happy Fish II-302 In 1,Happy Fish I-195 In 1,Blue Elf 2009,Blue Elf 2008,Classical 138 In 1, 60 In 1,19 In 1 Game Pcb.......
Our casino Game PCB include:Red Board Mega 7 In 1,15 In 1,1 In 1,Coolair,Coofire,Hot Spot,6X,7X,Red 7 and so on.
Packaging & Shipping
Standard exporting package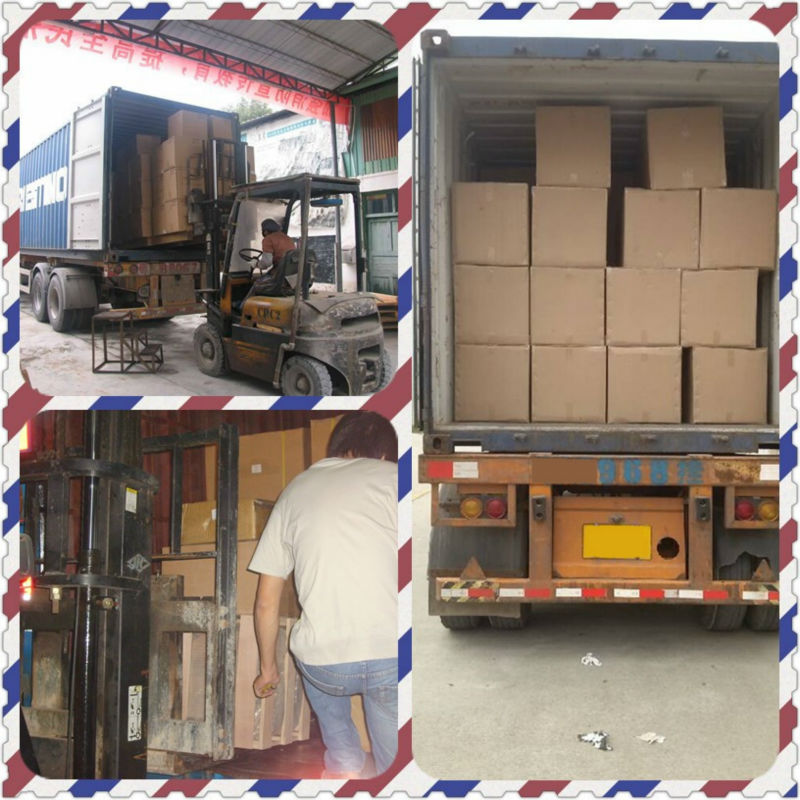 Our Services
*12 months warranty
*2 years technical phone and email support
Company Information
Guangzhou Loyoyo Electronics and Technology Co., LTD. is a collection of Video Games,simulator machines,cocktail cabinet ,slot game machine cabinet,bumper cars and Kiddie Rides processing, design, the production, the sale, the export of integrated professional electronics company ,also including hareware spare part such as token coin ,joystick ……for game Since 2008 ,the company is continue to absorb a variety of talents, improve product quality, improving staff quality, in order to grow their companies.
Business strictly in accordance with relevant state laws, regulations and rules of the WTO requirements management according to law, actively participate in regional economic cooperation, recent years our exporting business has been exporting to over 20 countries worldwide,such as USA,CA,Brazil,Uruguay, Argentina, Australia, Holland, India, Russia and so on
OEM and ODM order are acceptable.All the products are manufacture by ourself .The company will be in the tenet of quality, price and delivery time, after-sales service let you rest assured, gratified.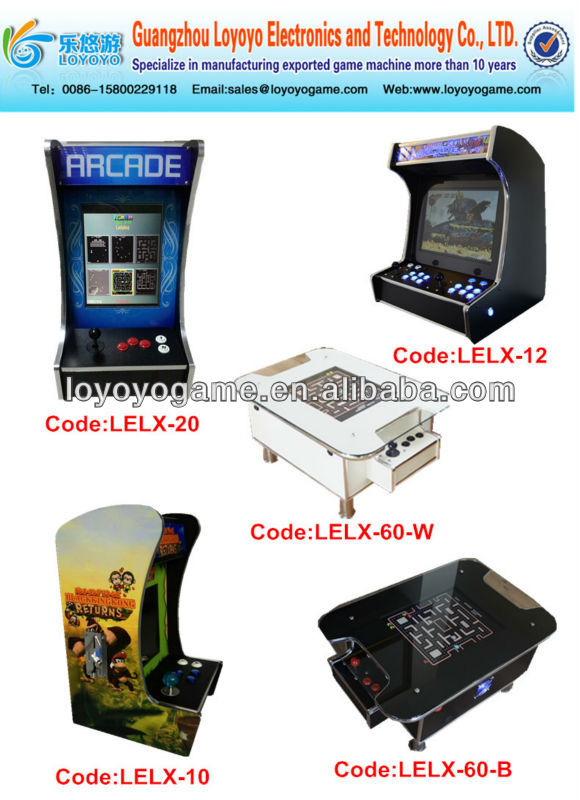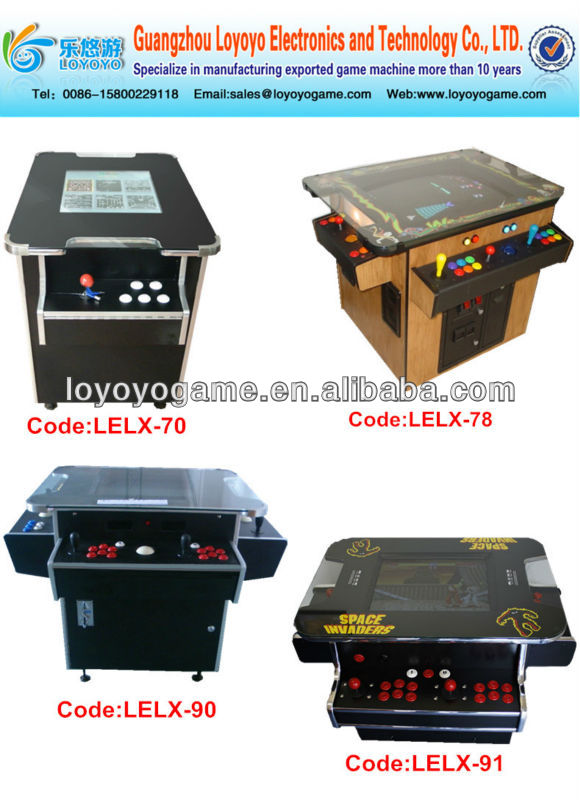 Quick Details
high quality 161 in 1factory, it is arcade game pcb and it contain 161 amazing arcade games.
Related Products
CONTACT US
Email:sales@loyoyogame.com
Mobile:0086-15800229118
MSN:sales@loyoyogame.com
Skype:fifi.luang